1. Warren Buffett
As the CEO of the massive Midwestern conglomerate Berkshire Hathaway, which wholly owns GEICO, Dairy Queen and several other prominent companies across the U.S. and abroad, the 87-year-old Buffett has become notorious for his conservative American traditionalism and investing wisdom. His worth clocks in at a stunning $85 billion, though he continues to live conservatively, eating McDonald's breakfasts and using flip phones.
2. Michael Bloomberg
The former mayor of New York City, Bloomberg's wealth comes from an empire he built following a layoff from his Wall Street position. Initially investing $10 million from his financial analysis company, Bloomberg ranks second with his current value of $51.7 billion. This 76-year-old continues to be politically active, shelling out millions of dollars during political campaigns around the U.S.
3. Carl Icahn
An infamous Wall Street upstart from the '80s, Carl Icahn is now 82 years old and worth about $24 billion. He has holdings in Apple, eBay and Xerox, and was vocally and financially supportive of Republican candidate Donald Trump during the 2016 elections.
4. James Simons
The founder of Renaissance Technologies, which managed vast sums of hedge funds around the world, the 80-year-old now holds about $20 billion himself.
5. Joseph Safra
The world's wealthiest banker, Safra owns a full 50 percent of the stocks in Chiquita Bananas, as well as holding full ownership of one of Brazil's largest banks, Banco Safra. Safra is 79 and holds a little over $20 billion.
6. Thomas Peterffy
As CEO of Interactive Brokers—the digital trading titan—Peterffy came from humble roots. He arrived in America in 1965 without any money to his name and built a fortune from Interactive Brokers, which he started in 1993. He now holds over $20 billion and still makes some business decisions for his company at the age of 73.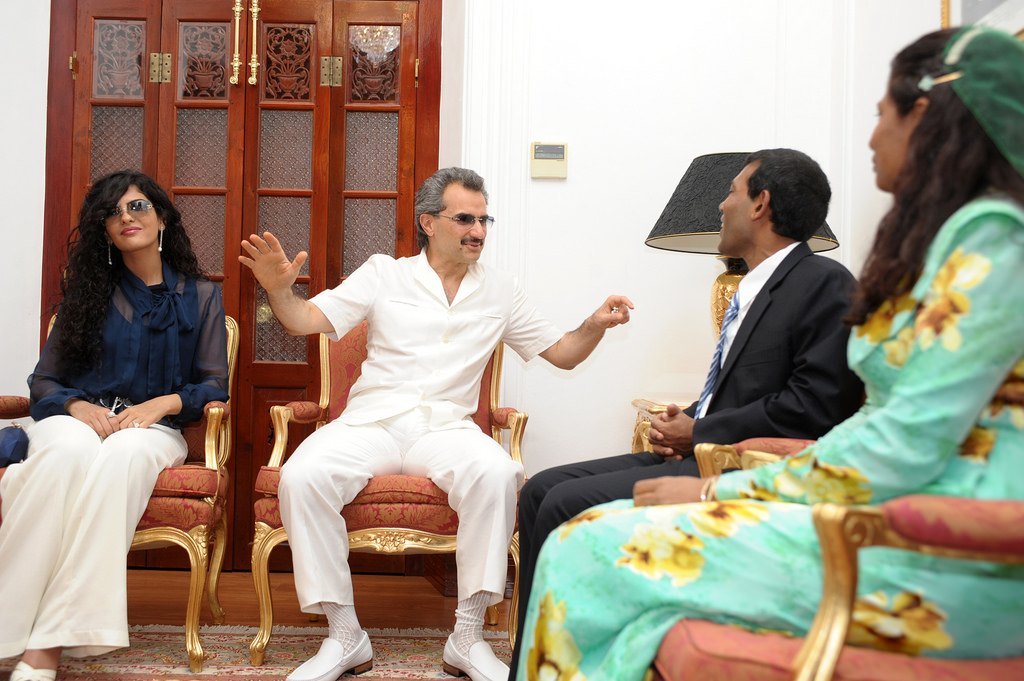 Saudi Prince Alwaleed Bin Talal Alsaud invests in tech and real estate companies across Europe and Saudi Arabia. (Photo by Presidency Maldives via Flickr. CC BY-NC 2.0)
7. Prince Alwaleed Bin Talal Alsaud
This Saudi prince owns holdings in companies across multiple continents, including substantial money tied to Lyft, Twitter and real estate throughout Europe and Saudi Arabia. At the age of 63, the prince's holdings clock in around $19 billion.
8. Ray Dalio
The founder of Bridgewater Associates—the single largest investment firm in the world—himself clocks in at around $18 billion. Dalio, who is now 69 years old, got his start from an early age, speaking to older investors whom he caddied for at a Long Island golf course. He launched Bridgewater in 1979 and has grown the company to the giant it is today in the years since.
9. Abigail Johnson
The wealthiest woman in investing, Johnson holds $16.5 billion, primarily tied to Fidelity Investments, which she now runs as CEO. She inherited the throne from her father in 2016 and, at 56 years old, currently holds roughly a quarter of the company's stock.
10. Steve Cohen
Cohen oversees Point72 Asset Management, a hedge fund giant, and has made his fortune from investing. Cohen has a history of success in hedge fund management and has netted himself close to $13 billion over the years. At 62, Cohen continues to see capital gains.