THERE'S SHOESTRING TRAVEL, THEN THERE'S budget travel, then there's travel, then business travel, and then elite travel. Way, way, way up — way higher than any of those — is megarich travel. It's the type of travel that only happens on private jets and with chauffeurs. It's "I have a pet tiger and I could easily get away with feeding someone to it" travel.
Naturally, this level of travel requires a certain type of accommodation. There are no hostels, no shared bathrooms, no trips to the ice machine at this level of accommodation. This is Wolf of Wall Street lodging. This is "I need a place to spend the night while my manservant replenishes my yacht's cocaine vaults" lodging.
You get the idea. These are the most expensive hotels in the world. Here's what spending more than the majority of the world's annual income is on a single night in a hotel room looks like.
1. The Apartment at the Hotel Connaught in London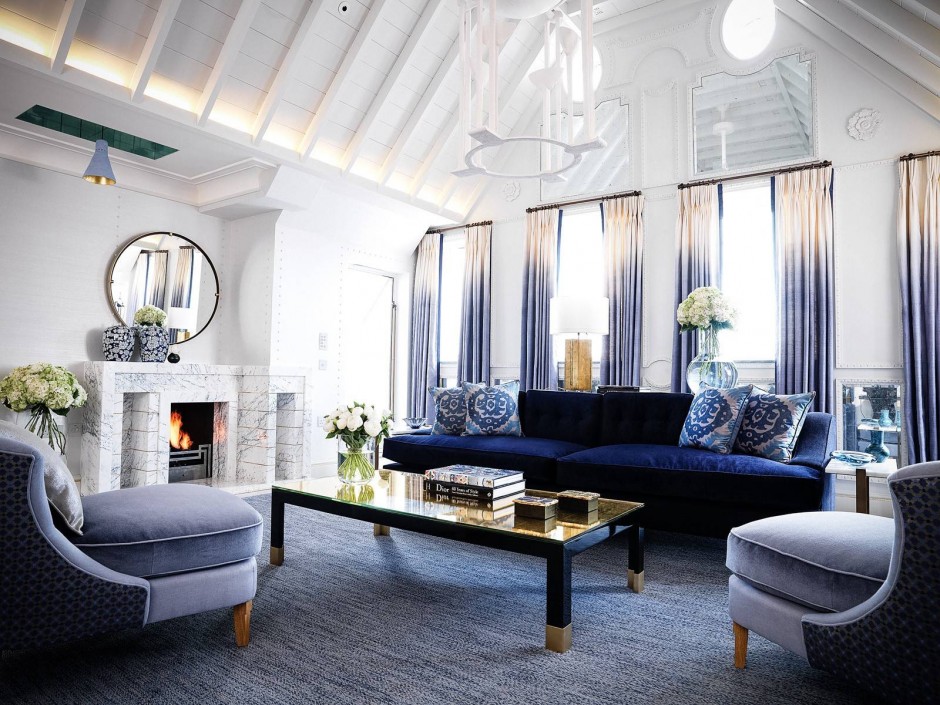 At $23,500 a night, the Apartment offers a private butler and menus designed by Michelin-starred chef Helene Darroze. It has a wrap-around balcony overlooking London's incredibly posh Mayfair area.
(via)
To get a good idea of just how over-the-top British blueblood opulent this place is, check out their interactive site regarding the Apartment — it includes stories of the butler flying to Paris after guests left to return the shoes they'd forgotten, and a guy who wanted to cook his wife a meal, and had a Michelin chef passing him tips behind a secret door. I mean, Christ.
(via)
2. The Presidential Suite at the Hotel Cala di Volpe in Porto Cervo, Italy
At $26,000 a night, the Presidential Suite at the Hotel Cala di Volpe in Sardinia offers three bedrooms, a solarium, a private pool, and a fitness area.
(via)
Each of the three bathrooms has a jacuzzi, an "oversized shower," and "dual vanities of Sardinian marble."
(via)
3. The Shangri-La Suite at the Shangri-La Bosphorus in Istanbul
At a mere $26,385 a night, the Shangri-La Suite takes up the entire top floor of the Shangri-La hotel, overlooking the Bosphorus Strait in Istanbul.
(via)
There's a TV embedded in that bathroom mirror, by the way. The room has three private terraces that give you views of pretty much the entire Istanbul skyline.
(via)
4. The Presidential Suite at the Mandarin Oriental in Shanghai
Located in spectacular, skyscraper-heavy Pudong, the best suite at the Mandarin Oriental is about $26,450 a night. It's a two-bedroom apartment with its own wine cellar, and staggering 25th-floor views of the Shanghai skyline.
(via)
It, of course, has butler service, and they promise flexible check-in and check-out, saying you can enjoy your full 24 hours in the hotel. I should fucking hope so.
(via)
5. The Royal Suite at the Hôtel Plaza Athénée in Paris
The Royal Suite is the largest hotel room in Paris, with 450 square meters. It's also $27,000 a night…$27,000 which totally couldn't have gone towards paying off my student loans instead.
(via)
The suite includes televisions concealed behind the mirrors, and "all the embroidery is done with gold thread." In large part, what you're paying for in this suite is proximity to gold.
(via)
6. The St. Regis Villa at St. Regis Mauritius
The St. Regis Villa on Mauritius is the largest villa on the island and costs $30,000 a night.
(via)
It includes a Jacuzzi, a lounge, a bar, and a private chef. The best amenity listed on the site by far, though, is that they specialize in "discreetly addressing guests' needs."
(via)
7. The Royal Suite at St. Regis Saadiyat Island, in the United Arab Emirates
At $35,000 a night, the Royal Suite at St. Regis is the largest hotel room in the UAE. It has two floors, butler service, and a private theater.
(via)
It also has a swimming pool and a games room. The master bedroom takes up pretty much all of the bottom floor and looks out over the ocean.
(via)
8. The Royal Villa at the Grand Resort Lagonissi in Athens
The Royal Villa, at $35,000 a night, once played host to Mel Gibson and Leonardo DiCaprio (I assume on separate occasions — you can only produce so much cocaine and booze on short notice). It has two master bedrooms, each with marble bathrooms with their own steam baths, as well as the butler's quarters.
(via)
There's also a private massage area, a heated pool, and a private deck overlooking the beach.
(via)
9. The Penthouse Suite at the Grand Hyatt Cannes Hôtel Martinez
At a quaint $37,500 a night, the Penthouse Suite at the Hotel Martinez in Cannes offers views of the Bay of Cannes (from a terrace Jacuzzi, of course), and two king-size bedrooms.
(via)
Strangely, compared to the other suites on this list, the Grand Hyatt's amenities list, rather than using the words "opulence," "luxury," and, "gold-leaf covered heated toilet seat," lists things like "wireless internet," "a bathrobe," and "Windows that open." Don't let that understated description fool you, though — according to Billionaire.com it is the fourth most expensive hotel room in the world (though CNN says it's third).
(via)
10. The Hilltop Estate Owner's Accommodation at the Laucala Island Resort in Fiji
Not only is this villa $40,000 a night, but you can't just book the room. You have to apply for the privilege of giving them enough money to pay the equivalent of most four-year in-state college tuitions over the course of a day.
(via)
The entire island is owned by Red Bull's billionaire owner (I know what you're thinking: Red Bull was a billion dollar idea?), and consists of 25 villas, but this is the best. It has panoramic views of the island, free massages, horse rides on the beach, and I imagine it allows you to hunt the deadliest game of all: man.
(via)
The webpage — which uses the word "opulent" like it's a good thing — also says it provides a private cook, a chauffeur, and a private nanny. It will, and I quote, make your "undreamt of pleasures come true." Which sounds like an underestimation of the weird pleasures people dream about.
(via)
11. The Ty Warner Penthouse at the Four Seasons in New York
The Ty Warner Suite at the Four Seasons in New York will set you back a cool $45,000 a night. It's the highest hotel room in New York, with a 360 view of the city, and it took 7 years and $50 million dollars to build. The room has its own art concierge and also a huge library. It only houses three — with accommodations for a child (and let's be honest, the only child that will ever stay here is Prince George).
(via)
Here's their website's pathologically detailed description of the bathroom: "The master bathroom is entirely clad in custom slabs of rare Chinese onyx and includes sinks carved from solid blocks of rock crystal, underlit with LED lighting. Unwind in a chromatherapy infinity soak tub or an oversized Dornbracht steam rain shower with six body jets. Other features include a Toto Neorest toilet with wireless remote, sensors and heated seat, and floors with radiant heat. The walls, ceiling and sink in the jewel-like guest powder room are fashioned from semi-precious tiger's eye stone."
(via)
12. The Sky Villa at the Palms Resort in Las Vegas
At $40,000 a night, the Sky Villa offers a private glass elevator, a glass spa jutting out over the balcony with views of the strip, a dry sauna, and 24-hour butler service.
(via)
There are actually a few Sky Villas, but the most luxurious one is called the Hugh Hefner Sky Villa. Because it's Vegas, so of course.
(via)
13. The Burj Al Arab in Dubai
No catalogue of the gaudily expensive would be complete without a mention of Dubai. While many of our other hotels on this list get a spot by merely having an absurdly expensive and luxurious suite, the Burj Al Arab gets on for having nothing butabsurdly expensive luxury suites.
(via)
All of their suites are duplexes, and the cheapest of them is $2,000 a night. Not including taxes and fees. The most expensive is $12,000 (depending on the exchange rate). This may well be — overall — the most expensive hotel in the world.
(via)
The amenities? You can get around in their Rolls-Royce, Mercedes, and helicopter transfer services. Or take advantage of their personalized butlers. Also, you can go to their four swimming pools and private beach, or get free access to a nearby waterpark. It's a great place to go to show your complete contempt for the concept of moderation.
(via)
14. The Shahi Mahal Suite at the Raj Palace Hotel in Jaipur, India
$45,000 US. For a night. It's got 6 bedrooms, a private theater, a library, and a private kitchen staff, but again: It's 45 grand a night. It's a particularly good fit if you're a Bond villain, royalty, or need a nice place to get together with some friends for an old-fashioned partition of a third-world country.
(via, via, via)
15. The Royal Penthouse Suite at the Hotel President Wilson in Geneva, Switzerland
At 60,000 Swiss Francs a night — or about $68,000 US depending on the exchange rate — this is the most expensive hotel room in the world. The suite has hosted the likes of Bill Gates and Michael Douglas, and includes its own private elevator, gym, and pool table; it has maximum security, a Steinway Grand Piano, and a panoramic view of Lake Geneva.
(via)
The good news is that it sleeps up to 6 people (it has 12 bedrooms and bathrooms, but the site says it only sleeps 6). So you can split the price with your other comically rich friends.